As the nation faces not only a global pandemic but also a long-overdue reckoning with systems of racial oppression, the urban waters movement is not removed from either. While the intentions of wanting to help vulnerable communities become more resilient are valid, the reality is that top-down actions can end up doing more harm than good. On-the-ground environmental initiatives can have negative consequences—like contributing to gentrification and displacement—that are borne by members of the community who are not necessarily partaking in the benefits of such initiatives, like green jobs. As River Network's annual River Rally commenced in a virtual format on May 18, 2020, these topics were interwoven throughout various sessions on equity and resilience. As Alicia Smith, a panelist at River Rally and an Urban Waters Learning Network (UWLN) award winner says: "organizations should work with communities, not for communities" in creating more resilient and sustainable neighborhoods.
For more information and resources on continuing work during social distancing, refer to the following UWLN Resources:
There are many questions about how exactly to go about doing meaningful community engagement; though, there is not one single answer. A good first step is understanding the history of inequality in the region and relating that history to the present issues faced in neighborhoods. In a previous post, we highlighted River Rally sessions that demonstrated how understanding history plays into equitable climate actions. But, equitable resilience at Rally did not stop there. There are other members of the urban waters community that have been doing this work who shared information on successful strategies for community and civic engagement. Two sessions from River Rally highlighted examples of community-centered engagement and civic action for equitable outcomes.
Community Engagement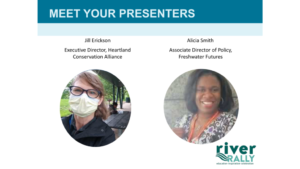 Led by Jill Erickson (Heartland Conservation Alliance and Urban Waters Federal Partnership Ambassador) and Alicia Smith (Freshwater Future and Junction Coalition) the live workshop—Mobilizing Communities in Land and Water Work—took place on Thurs, May 21 via Zoom conference during virtual River Rally.
Erickson works in Kansas City, MO in the Middle Blue River Watershed where areas along the river suffer from flooding and stormwater issues. The Heartland Conservation Alliance engages community members through the Green Guard Stewardship Program. This program is designed to meet community members where they are and taps into local expertise to educate the participants.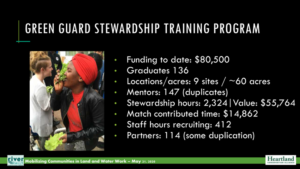 Participants are valued for their time and financially compensated for their participation in the program. Much of the work is focused on cleaning up vacant lots and restoring habitats in the communities. Participants from the Green Guard Program gave personal testimonies from their experiences, indicating that there is a "shared responsibility" for stewardship of the land and water. During the session, two participants in the program shared their stories—Atra-Niese Jones and Belinda Shelby Caldwell.  
Alicia Smith resides in Toledo, OH, working for protection the Great Lakes Region at Freshwater Future, an organization that builds sustainable and environmentally just communities. Smith is also the founder of the Junction Coalition, a group of community members focused on equitably revitalizing the Junction Community in Toledo. Both organizations work with communities through various programs to educate and advocate for environmental, social, and economic justice. One specific example is the "What Blooms on Blum Street?" project in Toledo's Junction Community; it is a "demonstration area" for creating green spaces in vacant lots that serve the community by providing green space, food, and service learning opportunities.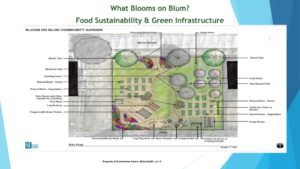 Alicia Smith's guests in the workshop shared experiences working with youth in their communities. Jada Patrick, a youth leader from We the People Detroit explained how visiting a green infrastructure site hosted by Freshwater Future allowed her to think differently about advocating for water and social justice. Joseph Smith, the director of Mud Athletics shared that his organization educates youth about water resource issues in the community and inspires actions, like providing food and water to those in need. Alexis Smith, an engineer and technology expert from the Junction Coalition, spoke about a stormwater flooding mobile application that the organization developed in cooperation with Earth Economics. The app puts tools in the hands of the community to inform decisions at the city level and advocate for green infrastructure implementation. In speaking about equitable community data, Alexis Smith said: "you have to get the experts…those experts are the people living and experiencing this every day…that's the community."
Be Water, by Hunter Prey, a song shared by Alicia Smith as an example of community voices for environmental and social justice.
Civic Engagement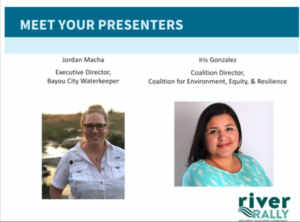 The "On-Demand" session—Rooted in Nature: Achieving Equitable Resilience—was led by Jordan Macha (Bayou City Waterkeeper) and Iris Gonzalez (Coalition for Environment, Equity, and Resilience). Both Macha and Gonzalez experienced the unprecedented flooding from Hurricane Harvey in Houston, TX that made landfall on August 25, 2017. In the aftermath of the hurricane, 25 nonprofits in the region came together to form the Coalition for Environment, Equity, and Resilience (CEER) to advocate for recovery through the lens of equity because they witnessed the inequitable outcomes of cost-benefit analyses after storms: low-income neighborhoods do not qualify for restoration assistance.
In 2018, one year after Hurricane Harvey made landfall, the voters of Harris County approved a $2.5 billion bond measure to address flooding and recovery. CEER and its members began to advocate for equity in the expenditure of the bond money by including the specific language in the bond. The organizations also planted the seed to incorporate nature-based green infrastructure solutions to the flooding issues.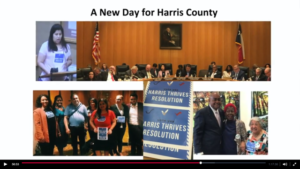 During the process, it was important for CEER to have connections with the Texas Organizing Project, an organization with experience in community engagement and advocacy. With the voices of the community, the Harris County Commissioners' Court approved the Harris Thrives Resolution in August, 2019. The resolution requires the Harris County Flood Control District, among other things, to include the CDC's Social Vulnerability Index to ensure "equitable expenditure of bond program funds" as well as promote nature-based solutions to flooding. This specific language was a big win for the community, marking the first time that equity will be considered in flood recovery.
A Deeper Dive with the UWLN
While several weeks have passed since Rally ended and much of the uprising around racial injustice has quieted, we must stay vigilant in creating equity in resilience and environmental justice in our work.
Resources for anti-racism can be found:
To dive deeper into the topics of equity, resilience, and equitable development, the UWLN has launched a new collaborative initiative. If you are interested in learning more, please reach out to Diana Toledo (dtoledo@rivernetwork.org) or Renée Mazurek (reneemaz@gmail.com) or sign up here.  
---
This post has also been published on the River Network website.