With the official start of summer around the corner, the slow drip of news updates warning us to brace for yet another summer of above-average temperatures and rainfall has started. Nearly every summer over the past five years has shattered heat records, and this "new normal" will only worsen as the climate crisis escalates.
We aren't powerless in the face of this crisis. We know what is causing climate change and can anticipate which communities will be hit first and worst by the deadly consequences. We also know which investments can help mitigate the worst of these impacts. Among the various types of green infrastructure that can help combat extreme heat and flooding, trees stand out as one of the most powerful tools for climate adaptation. Urban trees sequester carbon and filter the air, and when set up to thrive, their canopy shades sidewalks from the sun, prevents homes from absorbing heat, blocks wind during storms, and absorbs rainwater to reduce flooding.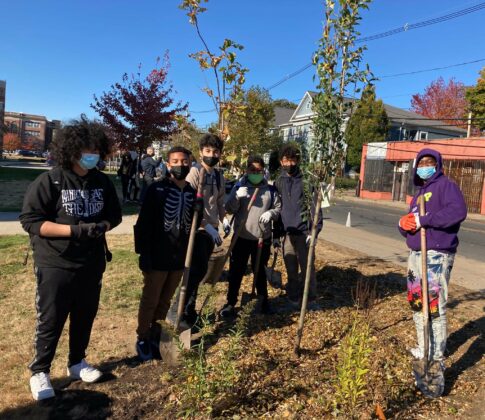 While the benefits of trees are undeniable, in the majority of cities, the map of the tree canopy is directly correlated to income and race. Studies show that neighborhoods with mostly white residents today have 33% more tree coverage compared with communities of color. Similarly, wealthier areas boast a 65% higher tree canopy than lower-income neighborhoods. This inequality is rooted in discriminatory housing and zoning policies, which favored investments in tree canopy and green space for wealthier, primarily white communities, while low-income communities and communities of color were sited for pavement and highways. The consequences of this disparity reverberate through communities, casting a menacing shadow over well-being, health, and ability to withstand future climate-related challenges.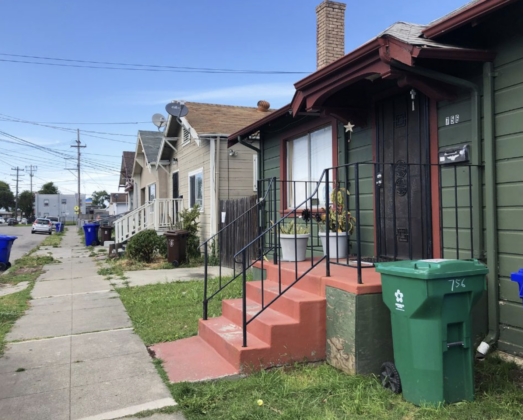 While the solution is more trees, how we approach this work is just as important as getting new trees in the ground and maintaining the existing canopy. Groundwork Trusts plant over 6,000 new urban trees each year on public and private land in neighborhoods lacking tree canopy. In most cases, the actual tree planting is the easy part. Achieving equity in tree distribution entails strengthening the bond between people and urban trees, removing barriers that impede access to planting and stewardship resources, and cultivating an ecosystem that fosters the growth and well-being of these newly planted trees. Only through this holistic, restorative work is tree equity even possible.
TREE EQUITY IN ACTION: GROUNDWORK RHODE ISLAND'S MULTI-PRONGED APPROACH TO EQUITY 
Among the many impactful initiatives happening across the network, tree equity projects stand out as a powerful catalyst for addressing climate change. These tree-focused endeavors are even more important in places like Pawtucket and Central Falls, Rhode Island, where urgent weather-related disasters persist.
In response to pressing climate challenges, Groundwork Rhode Island (GWRI) collected firsthand experiences from the community to better understand the impact of climate change on residents' daily lives and identify the best solutions to meet their needs. Findings revealed that extreme heat and flooding were top concerns. Residents were forced to endure unbearable walks to work and school under scorching temperatures, while stagnant floodwaters caused mold and respiratory issues.
In their quest for solutions, GWRI utilized the Tree Equity Score (TES), a comprehensive metric that considers factors such as tree canopy cover and climate data. The TES assessment revealed alarmingly low tree canopy coverage in Pawtucket and Central Falls, with some neighborhoods having as little as 10% coverage and a tree equity score of 48 out of 100.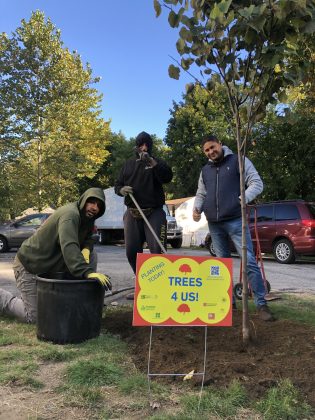 The reality was that barriers to tree equity were deeply entrenched in a history of discriminatory housing policies and exacerbated by the city's problematic tree distribution strategy. The City of Pawtucket's first-come, first-served tree program required applications to be submitted online and were only available in English. Those without internet access or proficiency in English were excluded from tree planting opportunities. To address the glaring tree equity gap, Groundwork RI advocated for a change from a city-level initiative to a community-based approach.
Through partnerships with American Forests, the Pawtucket Central Falls Health Equity Zone, and generous support from national and local foundations, GWRI established the Trees4Us program. The program ensures equal access to resources, allowing homeowners, renters, and businesses in climate-vulnerable neighborhoods to obtain free trees. The program goes beyond tree distribution to foster a culture of active stewardship and long-term sustainability through community outreach, accessible language, volunteer mobilization, and meaningful partnerships.
Since launching Trees4Us, they have planted and nurtured an impressive 190 trees in the most climate-vulnerable areas of Pawtucket and Central Falls. With support from the U.S. Forest Service, they plan to plant over 2,000 additional trees in these cities and other northern Rhode Island communities over the next three years.
THE POWER OF COLLABORATION AND PARTNERSHIPS IN TREE EQUITY
Groundwork Rhode Island plays a pivotal role in reshaping the tree equity landscape in Pawtucket and Central Falls. Their work highlights the importance of community-led initiatives and addressing systemic barriers to ensure inclusive participation and benefits for all residents.
Building on the success of Trees4Us, we recognize that the key to achieving tree equity lies in strong alliances with community organizations, government agencies, businesses, and residents. These collaborations harness local knowledge, collective resources, and diverse expertise, enabling holistic solutions tailored to address community-specific needs, aspirations, and challenges.
Tree equity is not only being shaded from the heat; it's about sowing the seeds of justice, resilience, and sustainability in our communities. By ensuring trees are distributed fairly, we're nurturing a greener future where environmental and social well-being thrive and public health blossoms. As we strive for equitable access to green spaces, each tree planted, every policy advocated for, and every partnership forged propels us toward a future where climate justice becomes a reality.
Discover your city's Tree Equity Score and learn more about holistic strategies to achieving tree equity.