"As a new member of the Groundwork team and first time river rally attendee, I am leaving inspired and better prepared to act on the environmental justice work that will help improve the lives of people and the spaces in Milwaukee."

— Damien DeBuhr, Deputy Director, GW Milwaukee
This year's River Rally saw the greatest ever attendance from the Groundwork network, with representatives from cities around the country, including Boston, MA; Cincinnati, OH; Denver, CO; Hudson Valley, NY; Jacksonville, FL; Lawrence, MA; Milwaukee, WI; New Orleans, LA; Richmond, CA; Richmond, VA; and Southcoast, MA.
The various Groundwork Trusts comprise a network of community-based nonprofits. They work at the intersection of the environment, equity, and civic engagement by making tangible improvements to the natural and built environment, mainly in underserved and environmental justice communities.
Since many Trusts are small and very busy non-profits, they don't have a lot of opportunities to connect with each other throughout the year. River Rally is one opportunity for them to convene and learn from each other, take advantage of professional development opportunities, and develop contacts with a wide variety of other organizations.
Events at Rally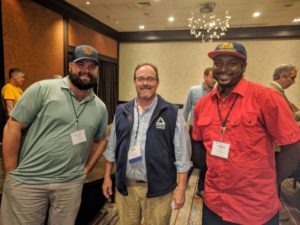 Every year, Groundwork USA works with River Network to convene the Urban Waters Learning Forum, a day-long workshop where water organizations have the opportunity to drill down on important topics, share resources and knowledge, and learn from each other. Most of the rest of Rally is devoted to workshops, panels, field trips, and a rather unforgettable night of open mic performances.
The Learning Forum took place on Friday, June 21st. During the morning of the Forum, the Urban Waters Learning Network hosted "Addressing Racial Equity in Environmental/Conservation Spaces," a half-day workshop facilitated by Darryl Haddock (West Atlanta Watershed Alliance) and Jennifer Arnold (Reciprocity Consulting, LLC). The workshop was designed to help participants develop an awareness and understanding of institutionalized racism and ways they can begin undoing racism within the environmental movement. The afternoon portion featured the Third Annual Urban Waters Learning Network Awards, followed by facilitated networking opportunities, where attendees had a chance to share their work and have deeper discussions around a variety of topics. 
After participating in the Learning Forum, various Groundwork Trusts led the following workshops under the Resilient Cities and Communities theme:
Urban Forestry: Key to Community Resilience (Saturday, June 22)
Across the country, discussion of large-scale tree planting programs has generated a lot of buzz. This workshop will tell the story of two successful programs in the Groundwork network. Participants will learn how to successfully launch their own tree-planting program. — Tennis Lily, Groundwork Lawrence; Sherman Dean, Groundwork Richmond; Matt Holmes, Groundwork Richmond
Water Resilience: Innovation Through Collaboration (Sunday, June 23)
This workshop will show examples of comprehensive urban water plans, developed collaboratively in New Orleans and Jacksonville, to explore definitions of resilience, share the challenges and successes faced by those involved in building an urban water plan and allow opportunity for interactive discussion and learning among participants. — Arthur Johnson, Center for Sustainable Engagement and Development, New Orleans; Todd Reynolds, Executive Director, Groundwork New Orleans; Kay Ehas, Director, Groundwork Jacksonville
Developing Comprehensive Youth Engagement Programs (Sunday, June 23)
In this workshop, learn about Groundwork USA's holistic place-based, youth-centered development model. Groundwork's youth programs engage youth primarily in urban areas affected by environmental justice concerns and provide employment, leadership training, and exposure to career pathways through local and national partnerships. A case study of Groundwork Mill Creek Alliance will be highlighted. — Curt Collier, Groundwork USA; Tanner Yess, Deputy Director, Groundwork Mill Creek Alliance; Alan Edwards, Education Director, Groundwork Mill Creek Alliance
Key Takeaways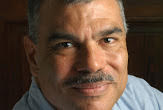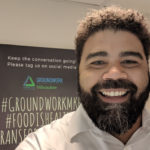 "Thank you for doing all of this, for getting people here… If I hadn't heard about this from the UWLN, I never would have known I should be here."
— Rob Jones, Executive Director, GW RVA
"As a new member of the Groundwork team and first time River Rally attendee, I am leaving inspired and better prepared to act on the environmental justice work that will help improve the lives of people and the spaces in Milwaukee."
— Damien DeBuhr, Deputy Director of Programs and Operations, Groundwork Milwaukee
Groundwork staff that had never attended Rally before were struck by the excellent range of workshop topics and networking opportunities.
Rally veterans or "old hats" discussed how the conversation at Rally has become more inclusive of a wider range of perspectives. Rally is a place where people who work in a variety of spaces, with a variety of backgrounds–"big greens," small grassroots organizations, academics, businesses, and more–have the opportunity to hear from one another and share resources and ideas.
As a contingent of urban, community-based organizations, Groundwork brings a valuable perspective to Rally; where many environmental organizations are grappling with hard questions around how to engage communities in meaningful ways, Groundwork can offer a tremendous amount of experience-based insight in this area. As Rally attendees and contributors, Groundwork staff benefit from making connections and building new partnerships both within the Groundwork network and beyond it.
Throughout the rest of the year, we'll be taking a deeper dive into the themes explored at 2019 Rally, including rich presentations shared by Groundwork Trusts, through a series of blog posts. Keep watch for the following topics:
Changing the Conversation: the Role of Urban Waters

Urban Forestry: Key to Community Resilience

Putting Climate Safe Neighborhoods on the Map

Water Resilience: Innovation Through Collaboration

Building Equity in the Environmental Movement: Big Greens at the Table
Diversity, Equity, and Inclusion: a Perspective from the Audubon Society
Stay tuned for more!