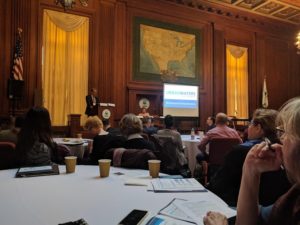 October 17-19, the Urban Waters Learning Network Team attended the EPA Urban Waters National Training Workshop. The semi-annual Workshop is sponsored by the U.S. Environmental Protection Agency to support the work of the fourteen agencies in the Urban Waters Federal Partnership. The program started in 2011 as an interdisciplinary, collaborative effort, connecting federal agencies with local communities to "transform their local urban waters into treasured centerpieces for community revitalization."
For us on the Learning Network Team–as the people working to create connections and provide professional support for organizations and federal partners sharing resources and tools–it was a chance to catch up on the inspiring work emerging from the nineteen partnership locations — and to figure out how to build on and advance that work in the coming years.
Materials from the 2016 and 2018 Workshops and more information about the Federal Partnership can be found here. The 2018 presentations will be loaded to the site in the near future, but for now you can view the agenda, and explore the 2016 topics and presentations in full. 
View a map of urban waters projects and learn what communities are doing as part of the urban waters movement.
This federal partnership will put communities first. We will work to break down government program silos and to ensure that our collective efforts will reverse past neglect, energize existing programs, and engage new partners. We will listen to, engage and serve the communities where we work, ensuring they are full partners in restoring and protecting the water that surrounds them. We will establish strong partnerships with effective community-based organizations and local government officials to make the most effective use of economic incentives and other beneficial actions. – "Beyond 2018: Strategies and Approaches to Sustain the Urban Waters Federal Partnership"