Water Equity and Climate Resilience Collaborative
The Water Equity and Climate Resilience Collaborative is a hub of the Urban Waters Learning Network (UWLN) that aims to support Urban Waters Federal Partnership locations and the broader membership of the UWLN in their work to promote equitable climate and community resilience. The goal of the Collaborative is to advance approaches that elevate community priorities – in particular those of underserved communities – in all aspects of building resilience. We define climate resilience broadly to include environmental resilience, as well as resilience related to the social and economic impacts of climate change.
The Collaborative was launched in November 2021 and is led by a small group of Urban Waters Federal Partnership (UWFP) location representatives who have experience with local climate and community resilience initiatives and whose approach to resilience is anchored in a commitment to equity. These leaders include:
If you are working at the intersection of urban waters, water equity and climate resilience and want to become involved in the Collaborative's efforts, please email Diana Toledo (dtoledo@rivernetwork.org)
---
Building Community Resilience 101 – Webinar Learning Series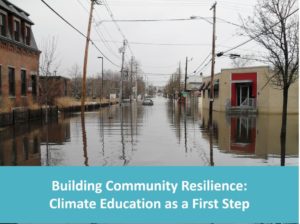 The effects of climate change—like flooding, heat, and drought—are clear to urban waters practitioners around the nation. However, the science of a changing climate can be complex and unclear to communicate. This webinar includes organizations that are using different forms of education to inform their communities about climate change science.
Jennifer Sloan (Groundwork Hudson Valley) shares a primer on relevant climate change topics related to urban waters, followed by examples of climate change curriculum and other online materials. We also hear from two organizations that are incorporating climate change education to drive community action. Juliana Gonzales (The Watershed Project) shared how climate change education ranges from school based programs (like Resilient by Design) to city planning (like regional master planning). Alicia Lehrer (Woonasquatucket River Watershed Association) shares the results of a climate survey that was conducted with residents from an area prone to flooding. Learn about how the survey was constructed and implemented as well as how the survey results help to guide future educational opportunities and advocacy actions for the community.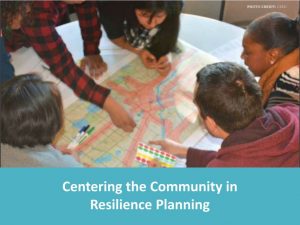 Community members who are most vulnerable to climate impacts are in the best position to make decisions about how to be better prepared – this webinar provides a framework for raising community voices and provides examples of resiliency plans that benefit the most vulnerable areas in our cities. Corrine Van Hook-Turner (Movement Strategy) discusses the importance of community-based resilience planning and provides some insights on how to do it, drawing on her own experiences as well as highlighting local examples included in the National Association of Climate Resilience Planners guidebook, Community-Based Climate Resilience Planning: A Framework.
Drew Curtis (Ironbound Community Corporation) shares his experience in the South Ironbound community, a neighborhood of Newark, NJ. The South Ironbound community—already heavily impacted by industry, poor air and water quality, and stormwater flooding—was severely affected by Hurricane Sandy. In 2015, the Ironbound Community Corporation, in cooperation with the American Planning Association New Jersey Chapter Community Planning Assistance Program and community members, developed and implemented the South Ironbound Resiliency Action Plan.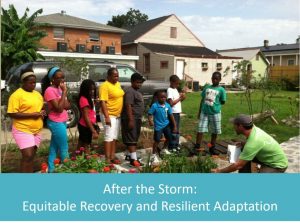 In the webinar, we hear from Arthur Johnson, Executive Director for the the Lower 9th Ward Center for Sustainable Engagement and Development (CSED) in New Orleans and Yvette Chen, Planning and Policy Analyst from the Fair Share Housing Center (FSHC) in New Jersey. Johnson shares how, fourteen years after Katrina, building resilience looks different today than it did early on. Beyond immediate recovery, CSED works to adapt to the effects of climate change through coastal rehabilitation, greening the built environment, increasing food security, and rebuilding homes to be energy efficient, safe and sustainable. Chen shares housing studies and data that examines post-disaster investments that help FHSC to work on their main goal of ensuring that recovery is both equitable and resilient by prioritizing low-income renters and homeowners.
---
Tools for Equitable Climate Resilience
River Network has developed new Tools for Equitable Climate Resilience with two methods for addressing climate risks: (1) Community Based Participatory Research, and (2) Leadership Development.
The Fostering Community-Led Research and Knowledge toolkit includes three methods for doing this type of research and describes case studies from organizations implementing such programs. The toolkit also includes a Project and Planning Facilitation Guide and a list of additional resources.
The Fostering Community Leadership toolkit includes methods for creating successful leadership programs and describes case studies from organizations implementing these programs.
Informed by "on-the-ground practitioners of leadership development," the guides highlight that collaborative approaches for equitable resilience are key.
---
Additional Resources
Equitable Resilience
Resilience Planning: Toolkits and Guides
Climate Education and Communication Materials