We were all looking forward to visiting San Antonio for River Rally this year. However, we welcome the opportunity to try something new. River Rally will be held virtually for the first time ever, for three full weeks online (May 18-Jun 7), and will feature both live and pre-recorded professional and social events.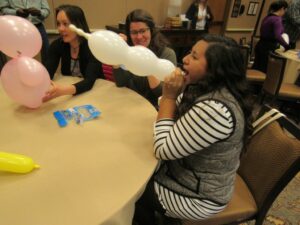 While there is nothing like visiting a place in person, or networking and spending time together, there are silver linings: we are getting used to new technologies, making events accessible to those who couldn't have attended otherwise, and lessening our own contributions to greenhouse gas emissions (as much as 25% globally, according to some estimates). Hopefully, Virtual River Rally will increase our technological acumen overall, making us more adaptable and giving us a way to increase access to future in-person events.
At the Urban Waters Learning Network, there has never been a more critical time to look for what lessons can be learned, explore how we can become more adaptable, increase access for the communities where we work, and find support for communities who are constantly innovating on the frontlines of disaster. What does resilience mean in these unprecedented times? How can we become more resilient? What lessons can we learn about leveraging collective impacts to improve our own climate resilience?
Normally, the Urban Waters Learning Forum, held the first day of Rally before the regular program begins, offers an opportunity for Urban Waters Learning Network practitioners to network with each other and set the agenda for conversations on the most pressing topics. This time, the Forum is going virtual in the form of a live, interactive Peer Call during the first week of Rally. This call–titled How Are We Engaging Community Members and Building Leadership for Climate Resilience?–will be an opportunity for members of the Urban Waters Learning Network (and other River Rally attendees) to network with each other and advance our collective conversation around climate resilience and community engagement. You will also have the opportunity to learn from some of your peers — experts who have developed comprehensive approaches to improving neighborhood-level climate resilience while working to engage community members in the decision-making process, exposing histories of redlining and housing segregation, and incorporating strategies that provide socioeconomic benefits to communities, such as workforce development and advancing fair housing policies.
---
Thurs 5/21 – 4-5:30pm ET
Urban Waters Learning Forum Peer Call: How Are We Engaging Community Members and Building Leadership for Climate Resilience?
Presenters/ Conversation Starters: 
Moderator: Heather Passchier, Rivers, Trails and Conservation Assistance Program and Groundwork Program Manager, National Park Service – read more about Heather's work with the Groundwork Network, and the Directory of NPS Community Assistance Programs
NOTE: UWLN members who are not registered for the rest of Rally, who want to attend this Peer Call, should RSVP here.
---
The following week, we will celebrate the 2020 Urban Waters Learning Network Award winners — leaders who have made measurable impacts in their own communities and beyond through peer-to-peer engagement, collaboration, and partnership building.
---
Wed 5/27 – 8:00pm ET
Urban Waters Learning Network Awards Panel, Celebration, & Happy Hour
Read more about this year's UWLN Award Winners.
NOTE: For those who are not registered for the rest of Rally, this event will be broadcast on Facebook Live; please follow @RiverNetwork.
---
In addition, we've highlighted a number of social events, live sessions and workshops that feature presentations by your Urban Waters peers, or which are of particular interest to those who work in cities. We've organized them first by category, then by date and time (including the sessions we listed above) for your ease of reference below. Please note that this list is NOT exhaustive, and we encourage you to check out the full River Rally program as well; we just wanted to make sure you knew where to find your Urban Waters colleagues, as we all navigate this strange new virtual space for the first time. Please note that except for the Peer Call and UWLN Awards, you must register for River Rally to attend all events.
---
Awards, Films and Fun
Every Tuesday at 8:00pm ET (5/19, 5/26, and 6/2)
Wild and Scenic Film Festival
Themes: Farming & Ranching, Science & Climate, and Civic Engagement & Inspiration
Wed 5/27 – 8:00pm ET
Urban Waters Learning Network Awards Panel, Celebration, & Happy Hour
Thurs 5/28 – 8:00pm ET
Leaders of Color Social Hour
Wed 6/3 – 8:00pm ET
Community Happy Hour
Thurs 6/4 – 8:00pm ET
River Heroes Awardee Panel, Celebration, & Happy Hour
---
Select Live Sessions
Tues 5/19
2-3:30pm ET
Connecting Rural Conservation to Urban Restoration (E): A Michigan case study shows how connecting upstream agricultural conservation to downstream urban restoration creates opportunities for unique partnerships and funding. Workshop activities will help you identify opportunities in your own watershed. Eileen Boekestein and Carlos Calderon, Grand Valley Metro Council/Lower Grand River Organization of Watersheds
Wed 5/20
4-5:30pm ET
A Tale of Two Richmonds: Equity, Climate, & History (E): In Richmond, VA, and Richmond, CA, we're examining the impact of climate change on our communities through the lens of historic policies of discrimination. Learn how data and community-based conversations are shaping climate resilience strategies. Rob Jones, Groundwork RVA; Matt Holmes, Groundwork Richmond 
Thurs 5/21
2-3:30pm ET
Mobilizing Communities in Land and Water Work (E, I): Learn from stewardship leaders in Detroit and Kansas City about how to revitalize and build resilient communities through service learning, green infrastructure, clean water access, and prioritizing economic opportunities that benefit neighborhoods. Jill Erickson, Heartland Conservation Alliance; Alicia Smith, Freshwater Future 
4-5:30pm ET
Peer Call: How Are We Engaging Community Members and Building Leadership for Climate Resilience? 
Join leaders from the Urban Waters Learning Network for an in-depth discussion and peer networking opportunity to explore how we can engage community members in climate resilience initiatives. Maria Gabriela Huertas (Caño Martin Peña Community, Puerto Rico), Andy Kricun (US Water Alliance), Cate Mingoya (Groundwork USA) and Jonathan Phillips (Groundwork Elizabeth) will lead us into this conversation, moderated by Heather Passchier (National Park Service). We will then break into peer groups to learn and share from one another about how we can engage and activate various sectors of our community to build greater climate resilience.  
Tues 5/26
2-3:30pm ET
Building Multi-Racial Organizations for Our Waters (E): We will discuss the differences between diversity, equity, inclusion, and multi-racial leadership and share stories – both successes and challenges – as Milwaukee Water Commons works to build a multi-racial organization focused on our waters. Brenda Coley and Kirsten Shead, Milwaukee Water Commons  
4-5:30pm ET
Making a Stronger Case for Water (E): Take a deep dive into communicating about water conservation. In a highly interactive workshop, we will explore assumptions about diversity (geographic, ethnic, economic), the place of climate in our work, and what we can learn from other movements. Brandon Hayes, Bold Bison Communications and Consulting 
Wed 5/27
2-3:30pm ET
Lessons on Network-Building from the Delaware River (E): Learn how a network-based strategy is supporting a large coalition to create change basin-wide. Leave this interactive session with tools for balancing the benefits and costs of collaboration, cross-state advocacy approaches, and forming effective partnerships. Kelly Knutson, Coalition for the Delaware River Watershed; Grant La Rouche, National Wildlife Federation; Sarah Clark, Institute for Conservation Leadership 
Thurs 5/28
2-3:30pm ET
Streamline the Life Cycle of Your Data (E): Have yellowed data collection sheets jammed in a cabinet? This workshop is for you. The Water Data Collaborative wants to help you manage, integrate, and visualize their data. Learn a streamlined process and best practice resources to quickly collect and disseminate data with resources like Water Reporter, Salt Watch, and open data management tools. John Dawes, Chesapeake Commons; Sam Briggs, Izaak Walton League of America; Adam Griggs, River Network 
4-5:30pm ET
How's My Waterway?: Learn about EPA's "How's My Waterway?" application and the data it provides. Attendees will feel empowered to communicate water quality information to their community in order to protect and restore their waters. Kiki Schneider, US EPA, Office of Water; Miranda Chien-Hale, US EPA, Office of Water, Watershed Branch 
Mon 6/1
2-3:30pm ET
En Español: How to Reach and Activate Latino Communities (E, I): The session will serve both as the launch of the newly-developed River Network Drinking Water Spanish-language Guide, as well as a case study to review, discuss, and analyze methodologies to create culturally relevant outreach materials and educational tools to empower Latino audiences and other diverse communities around water-related issues. Felipe Benitez, Corazón Latino; Sheyda Esnaashari, River Network 
4-5:30pm ET
Safe Drinking Water Act 101: The Safe Drinking Water Act is the main federal law governing drinking water, and yet many groups are unfamiliar with how it works. Join us for an overview of this landmark law, including its strengths and weaknesses, and an in depth look at several provisions you can watchdog back home. Katherine Baer, River Network; Nick Leonard, Great Lakes Environmental Law Center; Jennifer Peters, Clean Water Action 
Wed 6/3
2-3:30pm ET
Building Bridges Across the Political Divide: An interactive, hands-on training for advocates and communicators. Learn how to find influencers, build relationships with decision makers, and advocate effectively for conservation priorities. Chandra Brown, Influence Advocacy, LLC
Thurs 6/4
2-3:30pm ET
Use Community Knowledge to Achieve Water Equity (E): Participants will be trained on the Community-Based Participatory Research (CBPR) Toolkit and how to implement toolkit strategies in their communities. Learn from community leaders who have used CBPR to achieve more equitable outcomes. Diana Toledo and April Ingle, River Network 
---
On Demand (Pre-Recorded) Sessions
Resilient Communities
Plastics Crisis: Fighting a Petrochemical Buildout (E): Break Free From Plastic is a global movement that seeks to shift the narrative of plastics toward rural and urban communities who face disproportionate impacts from plastics production. Learn how to weave these themes into your ongoing advocacy work. Yvette Arellano, Texas Environmental Justice Advocacy Services (t.e.j.a.s.); Tricia Cortez, Rio Grande International Study Center (RGISC Inc.) 
Rooted in Nature: Achieving Equitable Resilience (E, I): The session will highlight the lessons-learned and the victories achieved in the implementation of nature-based projects and development of cross-sector approaches in advancing equity in the wake of climate-related disasters. Jordan Macha, Bayou City Waterkeeper; Iris Gonzalez, Coalition for Environment, Equity, and Resilience
Daylighting the Saw Mill River (E): Learn how architects, artists, community groups, city officials, and more came together to daylight Yonkers, NY's forgotten underground Saw Mill River, leading to ecological, economic, and cultural revitalization. Discover ideas and proven methods for how to daylight your own hidden waterways. Brigitte Griswold, Groundwork Hudson Valley 
Green Design for a Resilient Caño Martin Peña (E, I): San Juan, Puerto Rico, was devastated by floods following Hurricanes Maria and Irma. Learn how community-based green infrastructure design assistance benefited these communities affected by urban flooding. Clark Wilson, US EPA Office of Research and Development
Leading with Equity for Flooding Resilience and Investments in Water Infrastructure (E, I):  Historically marginalized populations suffer disproportionately from the effects of flooding and inadequate infrastructure investments. A focus on equity is key to increasing resilience, creating opportunities for community feedback and targeting future investments to positively impact vulnerable populations. Learn how institutionalized racism and other forms of inequity play out and what can be done to address them. Darryl Haddock, West Atlanta Watershed Alliance; Jennifer Arnold, Reciprocity Consulting, LLC 
Effective Leadership
Inspiring and Mobilizing Your Board of Directors: Your Board exists to provide leadership and support in all of your organization's programmatic areas – including fundraising! Learn the "why" of board fundraising, actionable steps and fundraising tactics to set your Board up for success. Demystify the fundraising process, anyone can do it. Lisa Runkel, River Network 
The Power of Hidden River Histories: We will learn to use historical skills to empower us to tell stories of our communities. Using as examples historical maps, journal entries, and photos, we will discuss what it takes to create livable and just pasts and futures for our rivers. Scot McFarlane, Columbia University; Ramya Swayamprakash, River Historian and Ph.D. Candidate  
New Voices at the Water Table (E): Can priority neighborhoods build leadership among their residents? The Woonasquatucket River Watershed Council is working on just that in Providence, RI. Come find out how students engage adults to become leaders in priority neighborhoods. Alicia Lehrer and Sara Canuel, Woonasquatucket River Watershed Council; Kiana Gonzalez, MET Student
Setting the Stage for Effective Meeting Management: Do your meetings always start the same way? There are better ways to set up, introduce, and run a meeting to produce meaningful discussions and generate creative ideas. This workshop will review some tips to help hold more effective meetings. Amy Zola, San Antonio River Authority
Science and Climate
Natural Defenses Against Climate-Driven Flooding (E, I): As extreme rainfall events occur more and more frequently, communities across the country face unprecedented flooding. Learn how green infrastructure and nature-based defenses can protect both communities and rivers from climate-driven disasters. Emily Powell, National Wildlife Federation; Katherine Romans, Hill Country Alliance; Danielle Goshen, Galveston Bay Foundation; Mary Anne Piacentini, Katy Prairie Conservancy 
Assessing Climate Resiliency on a Watershed Scale (E): Climate does not adhere to municipal borders. The Lower Grand River Watershed's Climate Resiliency Plan offers strategies that will build a better and more climate resilient watershed through hands-on projects, data collection, and civic engagement. Wendy Ogilvie and Eileen Boekestein, Grand Valley Metro Council 
Clean & Safe Water in a Time of Change (E, I): Climate change is inherently a water issue. Local utilities must adapt to changes that both ensure clean and safe water services and can help advance community resilience. We will explore case studies of innovative utilities prioritizing water resilience. Kristina Surfus, National Association of Clean Water Agencies 
Advancing Stormwater Mitigation with Science (I): Learn to use science to engage the community and demonstrate the value of stormwater mitigation measures. Speakers will highlight the use of data from three perspectives: green stormwater infrastructure, ecological biodiversity, and triple bottom line. Jake Aalfs, Brandon Herman, and Lee Marlowe, San Antonio River Authority 
Inadvertent PCBs: PCBs in our waterways are becoming an increasing concern nationwide. Learn how the Spokane River Regional Toxics Task Force; consisting of point source polluters, state agencies, and conservation groups; identifies PCB sources and works toward reduction. Mike Petersen and Chelsea Updegrove, The Lands Council 
Birds, Bivalves, Botany: Assessing Ecological Lift: Restoration of the San Antonio River has resulted in ecological lift of the urban river system. Learn about simple tools and practical approaches for measuring lift using plants, birds, and freshwater mussels as bio-indicators. Lee Marlowe, Martin Reid, and Chris Vaughn, San Antonio River Authority 
Increasing Government Support for Citizen Science (E): Citizen science is key to a swimmable, drinkable, fishable future. This presentation on Swim Drink Fish's Great Lakes monitoring hubs celebrates the growing support to engage citizens in science and recreational water data collection. Gabrielle Parent-Doliner, Swim Drink Fish 
Empowering Community Watershed Science: Ever wonder why Google can't tell you how healthy your river is? Does it seem like you are re-creating the wheel with your monitoring and science programs? Find out how we're all part of a broken system and how the Water Data Collaborative wants to help turn your datasheets into actionable results. Adam Griggs, River Network; John Dawes, Chesapeake Commons; Sam Briggs, Izaak Walton League of America 
The Environmental Flow Information Toolkit (EFIT): The EFIT is a geospatial decision support tool that uses multiple data sources to identify areas for environmental flow protection and restoration. The workshop will review the EFIT development process and its application to streamflow conservation. Johanna Valente, Texas Parks and Wildlife Department 
Drinking Water
Drinking Water Guide: A Resource for Advocates (E): River Network's Drinking Water Guide covers the basics of drinking water from the source to your taps. This quick session will provide a high-level overview of the Guide along with tips for how to use it in your community. Sheyda Esnaasshari, River Network
Getting the Lead Out While Protecting Watersheds (E, I): Learn about Denver Water's plan to reduce lead in drinking water while preventing additional nutrient pollution in regional watersheds, understand the challenges and benefits of reducing lead exposure, and how to address lead in your own community. Jennifer Peters, Clean Water Action 
Policy and Advocacy
Civic Participation: More Than Just Volunteering (E): Organizations often struggle to engage the public in restoration and decision-making on a long-term basis. This workshop will describe innovative strategies to engage hard to reach audiences and merge government projects with bottom-up activism. Gretchen Mikeska, District Department of Energy and Environment; Erin Garnaas-Holmes, Clean Water Fund; Dennis Chestnut; Danielle Burs, DC Appleseed Center for Law and Justice; Trey Sherard, Anacostia Riverkeeper
Stewardship Networks: We're in This Together (E): We discuss how partners from government, universities, and non-profits have mapped stewardship networks and projects in the Denver Metro area to understand and strengthen the civic capacity to care for the natural resources of Denver's neighborhoods. Travis Warziniack, US Forest Service 
Scaling Investment to Meet Local Water Challenges: This interactive workshop will challenge water leaders to scale localized infrastructure investments to address pressing water supply, stormwater runoff, and water treatment challenges facing their communities. Cynthia Koehler, WaterNow Alliance
(E) Equity, Diversity, Inclusion, or Climate Justice | (I) Water Infrastructure