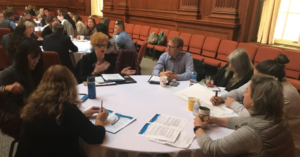 The Urban Waters National Training Workshop was held October 17-19, 2018 in Washington, DC. Approximately 120 participants from federal, state and local levels attended. Sponsored by the U.S. Environmental Protection Agency, on behalf of the Urban Waters Federal Partnership, the workshop provided an opportunity for participants to participate in workshop sessions, listen to plenaries, network and discuss strategies for the future. The full agenda as well as other workshop materials are available online.
The workshop agenda was organized around three goals, which corresponded to the three breakout session tracks:
Goal #1. Going Green – highlighted innovative green infrastructure practices and trends and offered insights for communicating the benefits of green infrastructure to others to gain support for implementation and long-term maintenance. The sessions also shared how communities and partners can develop green jobs and build capacity to become more resilient to natural disasters through community planning.
Goal #2. Meaningful State and Community Engagement – highlighted success stories, partnership models and opportunities for meaningful engagement with state partners and offered tips for engaging with historically underrepresented populations in visioning and planning processes for urban restoration initiatives.
Goal #3. Public-Private Partnerships – shared experiences on how to most effectively combine the strengths and resources of both the public and private sectors in actualizing urban water quality improvement goals. The sessions outlined the nuts and bolts of building mutually beneficial relationships between public and private entities to merge resources and catalyze investment for innovative approaches to partnership projects and programs.
This workshop summary provides an overview of the workshop sessions and key discussion topics. Links to all available presentations and photographs from the workshop are available on the main website. Direct links to each speaker's presentation are also provided in the summary PDF.