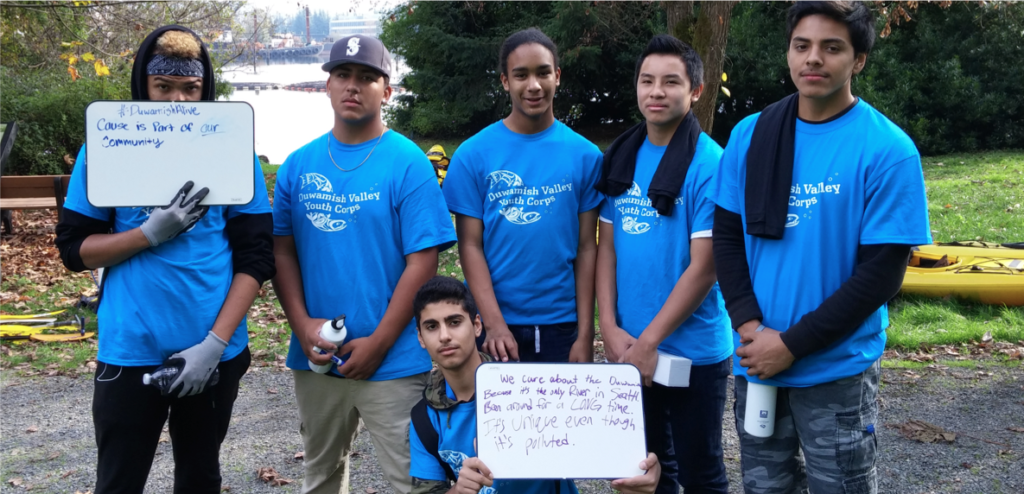 WATERSHED: Duwamish River Watershed
Creative & Inclusive Community Engagement
The Duwamish River Cleanup Coalition/Technical Advisory Group (DRCC/TAG) is a coalition of ten groups working to promote the health of the Duwamish RIver, a 5.5 mile long Superfund site that flows through Seattle's Duwamish Valley. DRCC/TAG works to implement effective, meaningful, and culturally-sensitive outreach and educational programming about the Duwamish Superfund cleanup and other community priorities on the river.
The Duwamish River was designated a Superfund Site in 2001, so an important role for the DRCC/TAG has been to gather community concerns and advocate for the community during the process. In order to evaluate the Duwamish Superfund cleanup options in the context of the community's future vision for the river, DRCC/TAGG spearheaded The Duwamish Vision. The Duwamish Vision is an ongoing, comprehensive, community-based project, engaging people who live, work and visit the Duwamish Valley through workshops, mapping and interviews. The project has compiled over 500 diverse community ideas, concerns, and visions into a comprehensive 'future map,' which includes transportation, housing, recreation, economic development, and habitat restoration. Projects implemented include tree planting, rain garden construction, improved access to community gardens, and enhancements to trail/river access points. All these efforts have mitigated run-off pollution and improved water quality in the watershed.
Additionally, DRCC/TAG runs a wide range of activities designed to engage people with the river and environment. Its Youth Corps provides valuable career training in "green" job skills including urban forestry, ecological restoration, and plant care. The youth work closely with professionals, and are exposed to opportunities for continuing education while improving their own community. Upon completion, the participants receive a graduation certificate and a stipend. DRCC/TAG's Guided River Tours are another effective way to engage the community in care for the river and surrounding environment. Each tour features a different topic, from Superfund facts to Native American history, to the Birds of the River.
For its wide-ranging community engagement work, DRCC/TAG is an exemplary river advocacy and stewardship program.