Alicia Smith
Executive Director
---
Alicia Smith is a proud native of Detroit, Michigan, and mother of three. She and her family currently reside in Toledo, Ohio, where Alicia serves as the Executive Director for Junction Coalition. She lives, works, and enjoys the Junction community's natural social environment with neighbors, friends, family, and visitors. Alicia's passion flows from her belief that all citizens need information to thrive. As such, she works to build the capacity of each family. She believes that Justice work is not limited to the Environment but touches on issues of Social and Economic Justice with the goal of promoting Peace, Public Health and a better quality of life for all citizens. To reach these goals in the community, the Junction Coalition created the Junction Neighborhood Master Plan in 2018, the first of its kind since 1968. 
In 2020, Alicia was awarded the UWLN Environmental Justice and Equity Expert Award. For the past year, she's also been an invaluable member of the UWLN Equitable Development and Anti-Displacement Collaborative, hosting the Community Wealth Building as an Anti-Displacement Strategy Peer Call in April 2021. 
I recently had the opportunity to talk to Alicia about her experiences living and working in the Junction community. This interview was edited for length and clarity.
Tell me about your background in your community.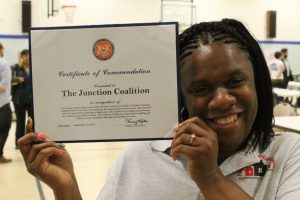 As a 14-year-old young lady, I got to Toledo to my grandmother's home… This community had not seen much support from local, state, or federal agencies, and we had to learn the language of the land. When I would walk to catch the bus, it was elders and seasoned individuals who lived in this community that would say to me: "Now you're going to get all this education, what you gonna do with it? Don't just get an education and leave us."
I then began to understand and realize my purpose wasn't just to gain an education to come up and out of poverty or up and out of hardship… there was no way for me to come up and out of being a black woman in a racist America. It was a way of becoming a black woman and becoming more socially educated so that I could help others understand how we should treat one another… That caused me to be a community organizer from 2008 to 2018.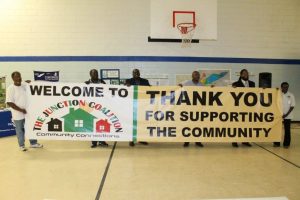 I went to school, graduated, and went off to the University of Toledo. Right now [I'm] finishing up my doctorate degree in Social Foundations of Education at the University of Toledo. [Through my education,] I found that there was no way for us to do real work without making sure that the community was educated about what was happening to them and around them… When it's not culturally relevant to them, they still miss it. So, we began to use the hip-hop pedagogy, use music to connect us with our language and culture to break down the dialect of macro-society.
It was difficult and even now it's difficult because our community is cross-sectional, cross-generational, and multicultural. We began to cry together and listen to the stories, to plan together and create opportunities and act together… [We also] began to celebrate what was changing around us.  We may not always get it right, because we may not always be able to go through all the obstacles. That's why you need a Junction Coalition within the community to stand up, stand with the residents, and be at peace.
Tell me the Four Pillars that form the foundation of the Junction Coalition?
I work for and with Junction Coalition, which has four pillars of justice: economic justice, environmental justice, social justice, and peace education. We knew that each one of those pillars stood by themselves but couldn't exist without the other. We started those four pillars of justice because we are a community that has been disinvested. The four pillars helped us to stand in solidarity, not looking at culture, race, creed, or religion. We have a mantra that there's nothing about us without us. We Listen, We Plan, We Act!
Can you give some examples of the work Junction Coalition has done to support the community?
In 2014, the Toledo area, the Lucas County area, was hit with microcystins through our harmful algal bloom. It's a bacteria that is a neural pathogen. It is also very deadly to animals. We've had several dogs that have died from consuming [water]. And so, in 2014 over 500,000 people could not drink the water in Lucas County because of the exposure to these microcystins.
Many of the officials would say it wasn't a water crisis because it wasn't Flint. It was a water crisis. It impacted water affordability and access. The need for water outside of consumption was prevalent. Junction residents got with a bunch of students—it has always been our students, always been our young people—they got together. We jumped in a truck and got water for elders, water for our families with children, women who were breastfeeding, mothers who needed to change diapers. We were able to ensure that our residents had water.  We were also able to ensure that our residents have public information about the length of time we would be without water due to the algal blooms and what algal blooms are. 
We're right now in the process of making sure people know about lead and lead line service replacement. It's the same thing. Lead is a toxin, and there's no level that is safe for consumption. Where you have homes that are aging…and you have water that is contaminated, that directly impacts our children's cognitive abilities… When these children go to school, many times they can't function at the highest capacity and are being pushed into the school to prison pipeline. We've got our young people moving, to begin to rehab homes. We teach them how to do lead abatement. We do citizen science teaching our young people about filter replacements. In that way, they protect their loved ones, young and old.
We also have what we call Hugs for Bugs, [creating] holistic urban green spaces… We have about 76% vacancy in our community, but it's not as ugly as it used to be. We have had great partnerships who have funded the city of Toledo to put in Junction Park. We have a camp that takes our children out to Lake Erie to let them see what and where our water comes from. All kinds of different partners have come to the equity table to help and support the work. The equity is there when you work with the community…and give the community a voice. That's what Junction is. We give the community a voice.
What got you involved specifically in urban waters work?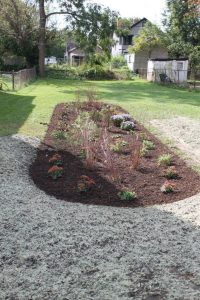 What got me involved was, I met a young lady by the name of Katie Rousseau from American Rivers, who knew about the work that we do. It was an Urban Waters [Small Grant] project to do some green infrastructure bioswales within our community. She had heard about us fighting to make sure that our community got the contracts to cut the grass. Not only did we get green infrastructure, but we also got jobs and training. We created a group called The Grasshoppers, who cut the grass of the bioswales; they also cut the grass of our seniors.  
What impact would you like to see your organization have in the next few years?
Housing. Communities can't exist without good housing, solid housing development that is fair, equitable and just. That's where I see us moving.  Those four pillars will hold up our housing, because it'll make sure that we have mixed-income housing… some passive and environmental components for energy conservation…also some green space where folks can go and sit and find peace and tranquility. It'll create social justice when we're all living together and understanding each other. Our focus will be to ensure that our community is safe, livable, walkable. It creates a better quality of life for everyone.
What keeps you motivated? Do you have a practice that keeps you balanced?
The goal is to get to work, regardless. All while you try to still be a mommy, a wife, a daughter, or granddaughter. What keeps me going? My grandmother, who on December 22 [2020] was removed from this earth by COVID, was my inspiration. She was my counsel. She would say: "Continue, even when you get tired, but when you get tired, learn that your rest is seeing that the work is getting done."
My family. I'm blessed to have a husband who permits me to do this crazy work. And I have beautiful, amazing children and a grandbaby. We get together on the weekend and forget that the outside world exists. We hold each other tight at home.
I reflect on how blessed I am. I have privilege too. I see racism; I've experienced it myself. But you don't stop fighting. Whoever we serve, whoever we believe helps with this world —God, the universe—you don't stop. Continually, we surge with the energy of the sun.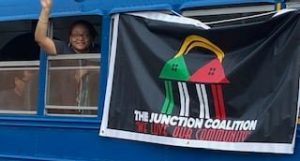 Self-care is important. Good friends… wise women like my grandmother. Children who will fight. All of this is important. I am blessed to be able to do this work, because when people trust you—even when there's those that try to come against you and try to destroy you—people will stand up with you and for you.
What advice do you have for others doing this work?
We may not know everything. Work with agencies that will educate and help you to build capacity. Get you some good partners, who will speak up with you.